Faith in Nature
The Climate Cafe
May 1, 2019
Join us for a evening of sharing tomato recipes!
Climate Café invites you to some and learn all about tomatoes. How to grow them, how to cook them, how to enjoy them.
Please RSVP by Sunday April 28 to faithinnature.wpuc @ gmail.com
Vegetarian Cooking Classes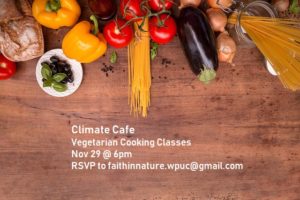 Climate Café relaunches with two vegetarian cooking classes.
5$ entry fee per event to cover for ingredients.
Check back for more info on upcoming classes!
This new, hands-on approach is part of our renewal as an environnemental transition oriented group. Indeed, reducing our meat consumption do reduce our ecological imprint  So why not trying a bit of vegetarian/vegan cooking for the holiday season this year? We hope to see you there 😉
Places are limited so please RSVP to faithinnature.wpuc @ gmail.com
FUR AND FROND
Starting in 2017, animals are welcome at every service. Bring your furry friends to worship with us.
Celebrate our earth. Share your concern for nature and humanity. Join our network!
We believe in the power of nature to connect us all.